Maltego is a unique platform developed to deliver a clear threat picture to the environment that an organization owns and operates. This tool for gathering the information.
Maltego is a program that can be used to determine the relationships and real world links between:
People
Company
Domains
DNS
IP Address
Phone Number
In Kali Linux, already have Maltego tool.
First, open the maltego tool and make a new layer at the top right corner. After that, choose domain:

furthermore, it wrote gemscool.com for the URL.
Right click on it and choose the all transforms, it would appear like this: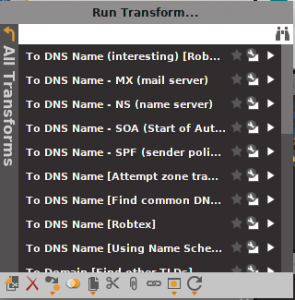 after that, choose whatever depends on what the attacker needs to know. this is for the example of the result: